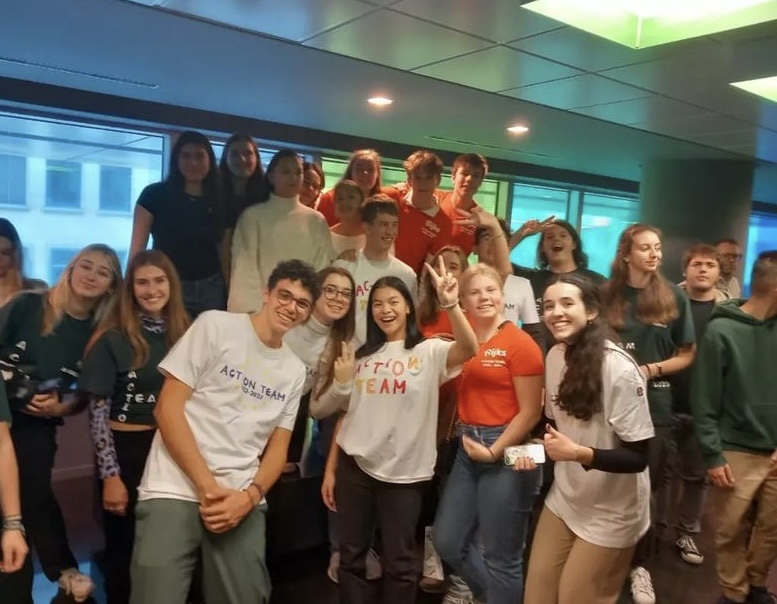 Our first day of our Erasmus project started at 6 am on Monday at the train station in Flensburg because we took the train to Brussels. After a few complications, because one of our trains got canceled, we arrived around 4:30 pm in Brussels at our hotel. 
Unfortunately, we were a little bit too late for the first activity because of this complication but it wasn't a problem since the other delegations greeted us warm and nicely. At the first activity we got "interviewed" so that we got to know each other better. After that we walked to a nice Italian restaurant and ate together with everyone. When we were done, we walked back to the hotel and got to sleep because we had to get up early on the next day. 
On the second day we were at the House of European History and learned more about different aspects of the European History. After that we got into teams for the next days and spend the day in those teams. We interviewed people on the streets about certain topics which was pretty cool, we ate together and did a few other activities like doing group photos. For dinner we went to a burger place as our German delegation and exchanged our thoughts. At the end of the day we presented our results of the group work and spend the evening with everyone. It was an amazing day.  
Wednesday was a very full day. It started at the Norwegian House near the European Parliament, where we talked to Lise Skjevik from a Norwegian Labor Union called "Industri og Energi" about labor unions and debated about their importance. 
After that we walked to an Italian restaurant where we ate pasta, everyone really enjoyed that. In the afternoon we went to the Parliament, where we played a role play game about being a member of the European Parliament, which was extremely interesting, stressful and informative. When we finished the game, we had two hours of free time where we went sightseeing with our new friends. As it got late, we got together with everyone and summed up the day in groups and reflected our experiences. 
The last day was very stressful, because when we checked our trains we saw that one of our trains got canceled again so we had to leave earlier than the other delegations. But first we got together one last time and brainstormed what project we want to do in our schools. Sadly, we only participated for the first 30 minutes because after that we had to go to the train station. Saying goodbye was sad but we were all happy that we got the chance to be on such a great project and I think everyone would do it again.